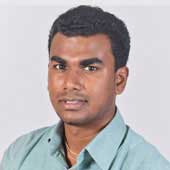 Sharat Sami
Sharat Sami
Sharat Sami is a network engineer with nearly over 5 years spent in the Telecommunications sector. He has experience in Network operations, Transmission and Radio Access Network and IP networking. He has worked in IP/MPLS Core focused on delivering quality MPLS services to corporations in Fiji along with dedicated internet services.
He has successfully completed Cisco and Allot security certifications. He has also taken the opportunity to gain more skills through PacNOG19/20, PITA, APNIC44, APNIC46 and ICANN62 meetings and forums.
Sharat is now working for the Australian Securities Exchange (ASX) on a project to upgrade the legacy infrastructure to latest MPLS network.
Sharat shares his knowledge as a volunteer community trainer.