Network Security for IoT & IIoT Environments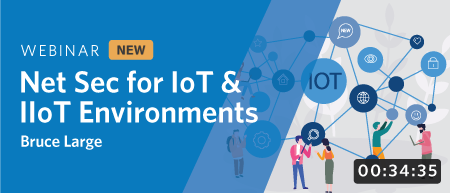 Overview
In this course, Bruce will discuss cyber security references, standards and architectures regarding the network security of the Internet of Things (IoT) and the Industrial Internet of Things (IIoT). Given the constraints of things, security often relies on the underlying security of the transport network, but this can be challenging with different network deployment models and different architectural approaches. This course will share ideas and suggestions for network operators to consider when securing networks that support things.
Outline
This course will cover the following topics:
Overview of Internet of things (IoT) & Industrial internet of things (IIoT) Architectures
Overview of Security Standards and References for Internet of things (IoT) Network Security
Different Network Deployment Models and security requirements
Course Materials
IoT Security Challenges
Overview
Course Overview
Internet of Things (IoT) is described as, "any physical object that can be connected to the Internet (with an IP address) and identify itself with other devices on the Internet". Examples of IoT devices can include cars, light bulbs, printers, TVs, speakers through to baby cameras.
This course will discuss how the growth of IoT devices is challenging networks, protocols and security professionals.
Course Outline
This course will cover the following topics:
IoT Characteristics
IoT Applications
Protocols in IoT
Architecture
Challenges in IoT
IoT Related Incidents
Acknowledgements
This course was developed by Id-SIRTII/CC for APCERT.